Calpol Tablets are a paracetamol formulation that contains Optizorb technology. Calpol Tablets with Optizorb releases medicine five times faster than standard paracetamol tablets1.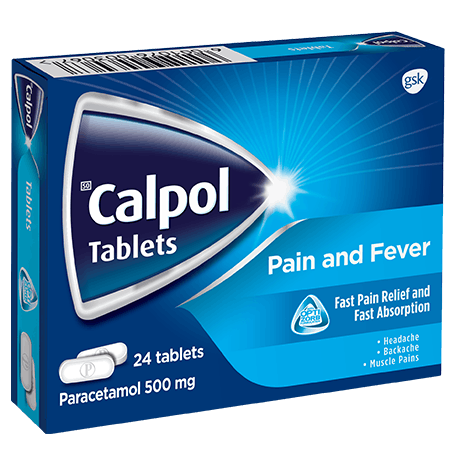 If you require any further information on COVID-19, go to https://sacoronavirus.co.za/ By clicking on the line above, you will be taken to an external website that is operated and not managed by GSK. GSK assumes no responsibility for the content on the website. If you do not wish to leave this website, do not click on the links above.

Fever
Pain and fever associated with cold and flu symptoms
Releases medicine 5x faster than standard paracetamol1
What are the ingredients?
Swallow tablets with water
Age

Tablets

How often

Adults (including the elderly) and children aged 12 years and over

One to two film-coated tablets

Every 4-6 hours as required. Maximum daily dose: 4000mg (8 film-coated tablets)

Children, 6 to 11 years

Half to one film-coated tablet

Every 4-6 hours as required:
6 to 8 years: 250mg (1/2 tablet)
9 - 11 years: 500mg (1 tablet)
No more than four doses in any 24-hour period.
Further Information
Maximum duration of continued use without medical advice: 3 days
If you would like any further information regarding Calpol products, please call our INFOLINE (Freecall) South Africa on 0800 118 274
1. C.G. Wilson, Cyril P. Clarke, Yan Yan L. Starkey & Geoffrey D. Clarke (2011)
Comparison of a novel fast-dissolving acetaminophen tablet formulation (FD-APAP) and standard
acetaminophen tablets using gamma scintigraphy and pharmacokinetic studies, Drug Development
and Industrial Pharmacy, 2011 Jul. 1;37(7):747-53, https://doi.org/10.3109/03639045.2010.538058